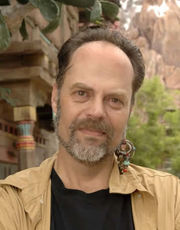 Joe Rohde is a Disney Imagineer best known for serving as the leader of the creative team behind Disney's Animal Kingdom from initial conception to the present. He is one of the Vice Presidents of Creative in Walt Disney Imagineering. An avid world traveler, Rohde is notable for his large collection of earrings, that he has accumulated through his travels.
Projects
Edit
Captain EO - Character designer
Mexico Pavilion - Painter
The American Adventure - Voice of Alexander Graham Bell
Imageworks - Portrayed Dreamfinder in the Dreamfinder's School of Drama films.