Hotel Hightower is the name of the building that serves as the location of Tower of Terror attraction at Tokyo DisneySea. It is a fictional hotel located in New York, NY, just toward the beginning of Park Avenue.
Appearance
Edit
The hotel's design is based on a mishmash of Gothic Revival andMoorish Revival architecture (or Neo-Moorish), popular with American and European architects during the 19th and early 20th centuries when the increasing exploitation of European colonies in the Middle East and Africa brought back a thirst for all things "oriental." It is now a style found more commonly in synagogues, due to the association with the Golden Age of Jewry in Moorish Spain.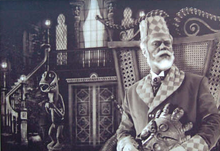 The Hotel was built by Harrison Hightower III , as a place to help store his collection or artifacts, which he collects from around the World. The Hotel is known to have a Spa and Pool, A Parlour Room, a Ball Room and a Garden. Hidden behind a Secret compartment is a passage to a vault, where Harrison Hightower placed his collection.

He held a Press Conference, on New Years Eve of 1899, talking about his recent expidtio to Africa, where he has obtain the Idol. Reporter; Manfred Strong, questions about rumous that the Idol is cursd, but Hightower dismisses the claim. Strong continued to question him, which upst Hightower and causes him to kick the reporter ot. Later that night, Strong returns (disguise as a Waiter) and witnesses Hightower returning to his Pent House Apartment, at the top of the Hotel, and tells his Valet; Smelding to make sure the Nw Year Party runs smoothly. Smelding cautions Hightower about the Idol and begs him to treat it with care, but Hightower laughs and puts his Cigar ot, on the Idol's head.

At Midnight, Green Lighting comes from the Tower and Hightowers screams are heard, in the Elevator. When Smelding and Strong search the Elevator, Hightower is missing and only his Fez and the Idl are in there.

The Hotel is then abandoned, and in 1917, Strong publishes a Paper about the events, and that the Hotel must be destroyed.

This news comes to Beatrice Rose Endicott, Head of the New York Preservation Society and the Daughter of the Newspaper, Strong works for, and feels that Hotel Hightower is a Land Mark. She is able to make sure the Hotel is saved from demolition, but Strong shows more concern.

Strong meets with Beatrice, and the two look about the Hotel, before Strong sees the Idol and he fles the Hotel with Beatrice. Strong asks Beatrice to reconsider her plans for the Hotel, and she claims she'll consider it.

The Hotel is then open to tours, by the New York Preservation Society, leading in to the Tower Of Terror Attraction?